A River-Inspired Evening of Outdoor Luxury
Paddle & Pedi is a rejuvenating and immersive outdoor experience that combines relaxation, adventure, and connection. This unique and luxurious evening inspired by the beauty of the river, perfect for women, mothers, daughters, sisters, and friends alike. Located in Campbell River, a picturesque coastal community in British Columbia, our Paddle & Pedi tour offers an unforgettable experience that brings together the elements of nature, pampering, and connection.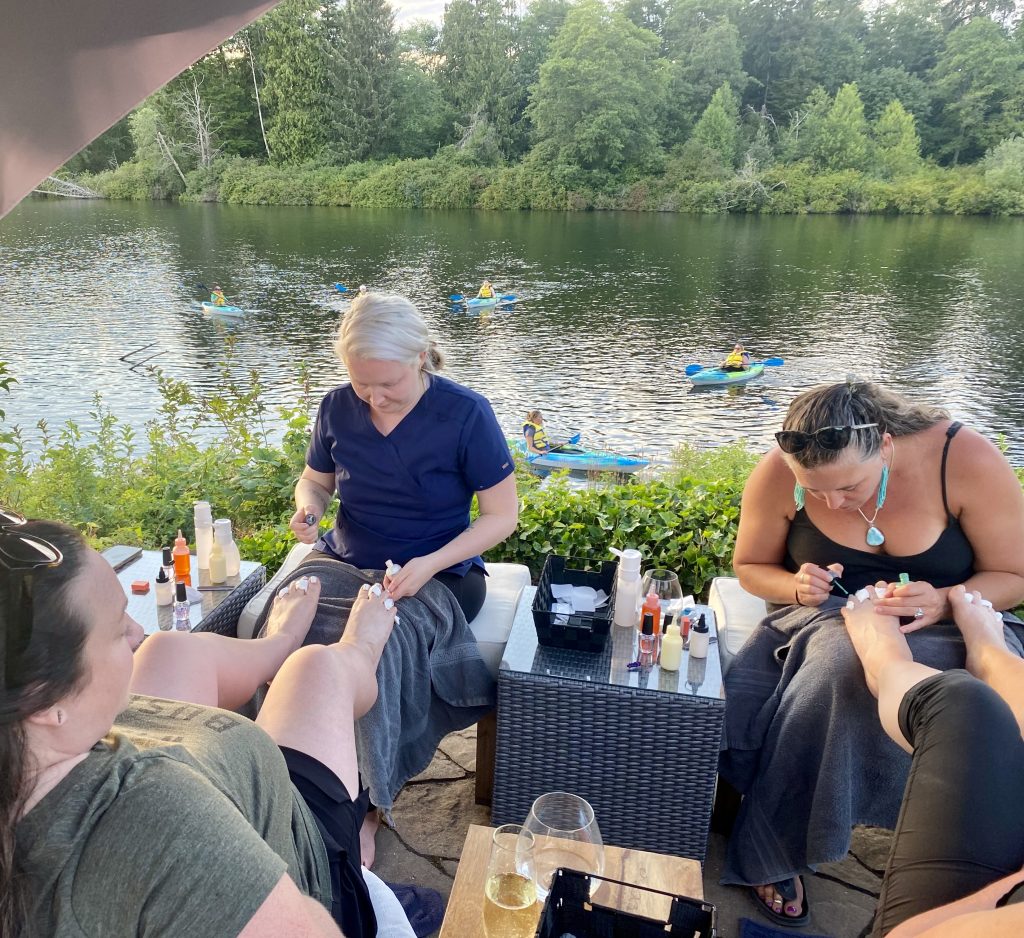 The 3-hour evening is set against the stunning backdrop of the Campbell River estuary. Paddle & Pedi is a one-of-a-kind event that provides a holistic experience for those seeking tranquility and indulgence in the great outdoors. Imagine having your toes painted while taking in the serene views of the river and surrounding nature. It's an intimate and luxurious setting that allows you to connect with nature on a unique level.
The evening includes a gentle and rejuvenating yoga session, a leisurely kayak on the estuary, and a pedicure overlooking the river. As you flow through the experiences and connect with your breath, you'll feel a sense of grounding and presence that comes from being in nature.
Paddle through the calm channels of the estuary. Marvel at the breathtaking scenery. Take in the fresh air as you explore the estuary's rich biodiversity. Campbell River is known for its abundant wildlife, including eagles, seals, and salmon, and you may be lucky enough to spot some of them during your paddle.
Unwind with a pedicure overlooking the river. Skilled technicians will pamper you with a luxurious foot massage, exfoliation, and nail care. You'll feel utterly relaxed and rejuvenated as you enjoy the serene views of the river and the surrounding wilderness. The combination of the natural beauty of the estuary and the indulgent pampering of a pedicure creates a truly unique and unforgettable experience.
Three Reasons to Book Paddle & Pedi
Mother's Day Gift: Experiences connect you to other people. What better way to connect with your mom by gifting her an experience with you! Research shows that an experiential gift is more emotionally intense than a material gift. READ MORE
Team Bonding: Building trust and fostering communication and collaboration, team bonding creates an environment in which teams can thrive. Being in an environment that cultivates bonding is key. READ MORE
To Say Thank you: When you praise or appreciate someone, it indicates that you have recognized their effort. It may encourage them to go the extra mile.
One of the highlights of Paddle & Pedi is the opportunity to share this magical experience. Come with your friends, sisters, daughters, or mothers! Paddle & Pedi offers a bonding experience that strengthens relationships and creates lasting memories. You can reconnect as you paddle, pamper, and relax together, creating a sense of camaraderie and shared joy.
A HIGHLIGHT of our summer!! Our daughter, granddaughters and myself participated in the Paddle and Pedi evening last night—soooo lovely!! READ MORE…

Bev C
No luxury experience is complete without some delectable treats, and Paddle & Pedi doesn't disappoint. Indulge your taste buds with delicious chocolate, perfectly complementing the river-inspired ambiance of the evening.
Its More Than Luxury
Paddle & Pedi is also an opportunity to connect with nature and support the local community. The Campbell River estuary is a precious ecosystem that provides habitat for a wide range of wildlife, and Paddle & Pedi is committed to eco-friendly practices to protect this pristine environment. In participating, you're not only treating yourself to a luxurious experience but also supporting sustainable tourism.
Paddle & Pedi offers a unique and unforgettable experience that combines the beauty of nature, indulgence, and connection. It's a river-inspired evening of outdoor luxury that provides relaxation, adventure, and bonding.
Book our rejuvenating and immersive outdoor experience now: Paddle & Pedi: A River-Inspired Evening of Outdoor Luxury