Do you dream of spotting wildlife in their natural setting doing what they do from your own seat in a kayak or on a bike? Campbell River, Vancouver Island BC has your seat ready and waiting for you.

Our excitement at spotting an animal or bird on the river never gets old. Wildlife spotting in Campbell River is part of the fabric. Meaning, you won't go far before you see an eagle perched in a tree, a seal near a dock whether it is in the ocean or in the river, and some form of 4 legged animal foraging on the edges. As the years creep by we are seeing more and more of them. And that is a good thing.

Vancouver Island is one of the most stunning places in the world to experience nature, and there is no better way to witness the region's rich wildlife than by kayaking or biking. Wildlife spotting by kayak or bike on Vancouver Island is an adventure like no other, allowing you to paddle and pedal through some of the most beautiful and remote areas of the island while enjoying the sights and sounds of its diverse wildlife.
See wildlife by kayak

The island's vast coastline provides a perfect habitat for a wide range of marine mammals, including seals, sea lions, and otters. Kayaking in the protected waters around Vancouver Island offers an opportunity to see these amazing creatures in their natural habitat. Campbell River is a great place to spot orcas, humpback whales, and Pacific white-sided dolphins.

This charming coastal town is located on the eastern shore of Vancouver Island. It offers a great starting point for those interested in wildlife spotting. The town is surrounded by stunning natural landscapes and waterways that are home to wildlife, making it a perfect destination for outdoor enthusiasts.

In addition to marine mammals, Campbell River is also home to an impressive variety of bird species. Kayakers can observe bald eagles, ospreys, and great blue herons hunting for their next meal in the waters around the Campbell River estuary. Furthermore, the shoreline is home to other commonly spotted bird species, such as belted kingfisher, purple martins, gulls, swallows and murrelets.
On the water… black bear, black bear what do you see?

Kayaking is a great way to spot black bears, which are native to Vancouver Island. The rugged coastline and dense forests provide an ideal habitat for these magnificent animals. Paddling through the calm waters of the Campbell River estuary, you may catch a glimpse of a bear feeding on the varied berry bushes or eating a few of the many salmon along the river.

Vancouver Island's rivers and streams are an important breeding ground for salmon. Kayaking on the Campbell River during salmon spawning season is an unforgettable experience, with salmon leaping out of the water and seals and eagles catching them for their own meals. Kayakers can float down the lower half of the Campbell River and watch the nature based drama built between the fish and fishermen of varying species!

Join Island Joy Rides for a Sunset Paddle to introduce you to this beautiful thriving revived river estuary. We are awaiting your visit!
By Bike… keep your eyes on the trail, but also on the wildlife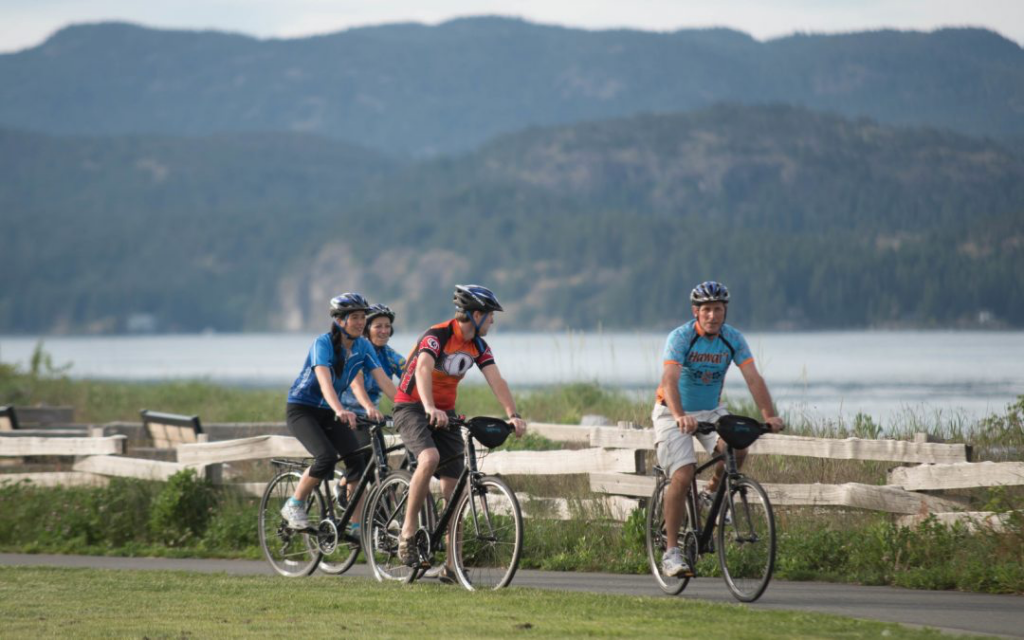 For those who prefer to stay on dry land, biking is another great option. Campbell River is home to numerous trails and parks that are perfect for cycling. Whether you are 'looping' around town on the fabulous Greenways Loop, you will spot a variety of wildlife.
The Beaver Lodge Lands, for example, offer 200 hectares of forested trails that are ideal for trail riding and mountain biking. While biking, keep an eye out for our forest animals: black bears, deer, raccoons, and unique bird species.
Biking along the beautiful waterside Rotary Seawalk stretching from south Campbell River to downtown, cyclists will have viewing opportunities to see eagles, seals, otters and many other bird species. During the late spring into early fall, whales frequently pass through the Salish Sea between Campbell River and Quadra Island.
Another excellent spot for wildlife spotting by bike is the Elk Falls Provincial Park. This park is located just a short distance from Campbell River and boasts stunning waterfalls, rivers, and forests. The park's trails also offer excellent opportunities for biking and wildlife spotting, with sightings of deer, elk, salmon and black bear.
Overall, Campbell River is a fantastic destination for wildlife spotting by kayak or bike. Its natural beauty and abundance of wildlife make it an unforgettable experience for any nature lover.
Island Joy Rides offers Self-guided and Guided Bike Tours where your chances of spotting wildlife from dry land are equally as exciting!