What do you want for Christmas?
Do you ever feel at a loss for ideas when someone asks you "what do you want for Christmas this year?" I sure do. Life is about experiences. This Christmas think about giving gifts of experiences to your favorite people.
I get excited about 'doing' things. As a teenager I made lists upon lists of 'top 50' things I wanted to do in my life. And it almost always included travel, with some sort of seeing, being or doing. Traveling to Italy & Greece, to do 10 chin ups (this is still on the list!), going to the Olympics, bungee jumping in New Zealand, climbing in Italy and learning to play piano. I could have easily filled all the slots up to 100. I was creating bucket lists before bucket lists became a thing.
I was a 'jack of all trades, master of none' to justify my wide range of mediocre skills. Developed over time as I checked off my list, and added more. I morphed into a more fitting self-appointed description…an Experience Collector.
Why Experiences vs Materials?
Currently we are at the perfect time to prioritize giving gifts of experience to those on your gift receiving team! What we learned from the Covid pandemic years doesn't need to disappear into the hustle of shopping and frantically searching for material items we think they need.
Instead, remember how great it felt to connect and share time with people you missed dearly. When you could be together over a simply planned picnic lunch, a stolen weekend away to a local 'ish' retreat. It didn't need to be over the top, it just needed to be an experience together. There is joy in planning something unique, inclusive and memorable that we can all share.
Research from Tom Gilovich at Cornell shows that people experience greater long-term satisfaction from investing in experiences than from accumulating material possessions. People remember and treasure experiences more readily than things, and feel better about having spent on experiences than on things over the long term.

Greater Good Magazine
At the top of my 'gifted experiences' list has been renting our local ice rink for a private family skate, complete with 80/90's tunes. To testing our heights with zip lining and high ropes courses, sharing our fears and adrenaline rush. And most recently my sisters and I paddled into the sunset in awe of the river wilderness that sits in our backyard. Soon after, a happy chatter about what we will do next year confirmed we are mastering something special.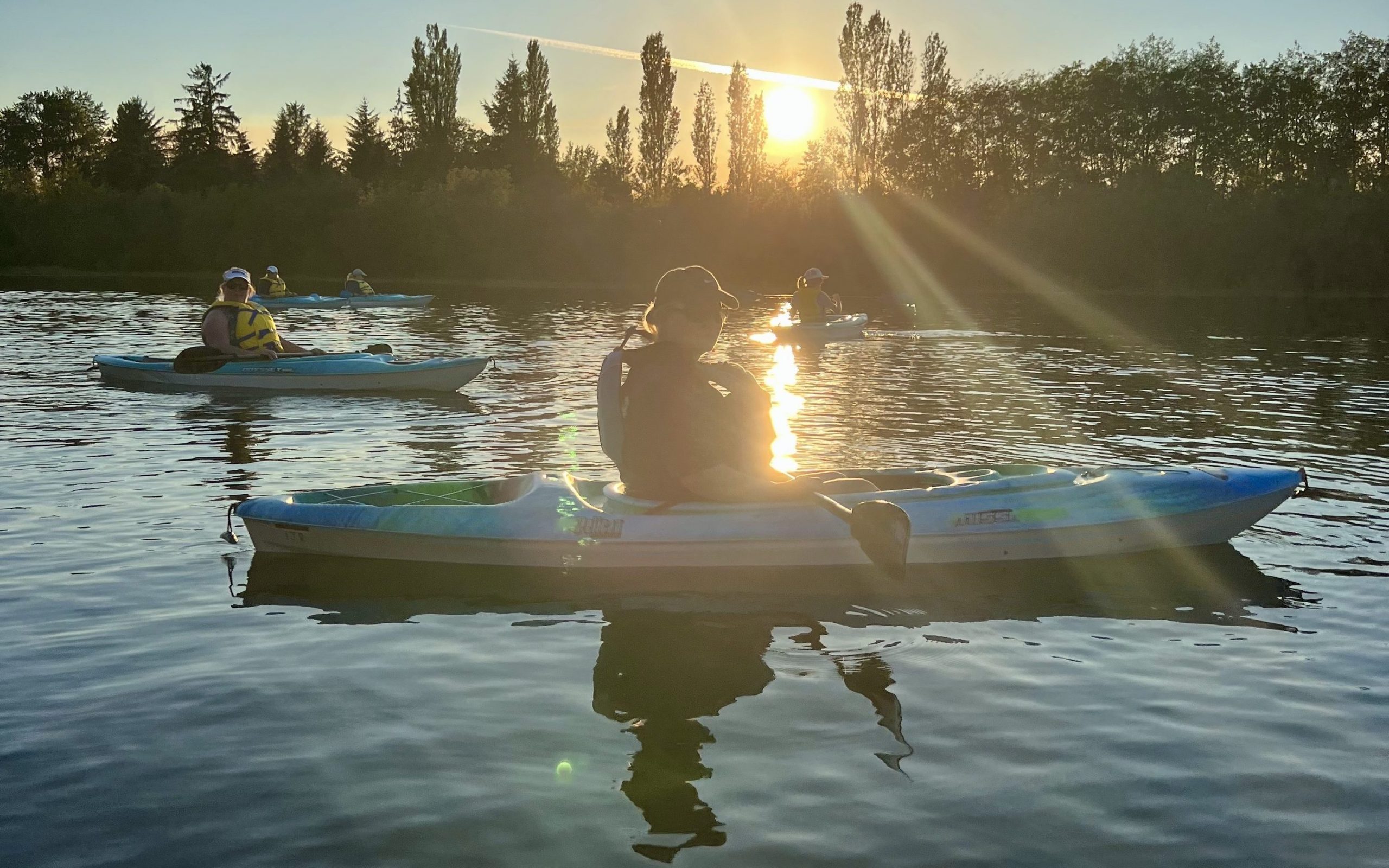 Pros to gifting experiences
And if you need more concrete reasons to give gifts of experience, a list of pros to support your decision…
Unique and original
More sustainable/Less waste
Long lasting memories
Individual or group experience.
Learn something new
See something new OR see it differently through a new experience.
Less shopping and more time to enjoy festivities
Supporting local companies/vendors
Finally, these experiential moments live on as memories that ignite wonderful feelings and emotion. We rarely remember stuff that we are given past the memory of receiving the gift. Let cool experiences shape and guide you in your future gifting choices, and enjoy reflecting back on the beautiful memories you help make. Now get out your sheets of paper or computer and start jotting down your experience gift list. We can't wait to see what you choose.
As experience makers, allow Island Joy Rides the privilege to help you in choosing a gift for someone you care about. We have single day experiences on bikes, on the water and multi day bike tours.
About the author: Leah has worked and lived in some great places in the world. Raised on Vancouver Island, she left to lead cycling and hiking trips in Italy, France, New Zealand, Canadian Rockies, and the Pacific Northwest of the US. 20 years later Leah returned with her husband, son and dog, calling this beautiful place home again.